Dashlane - Best Password Manager, last reviewed -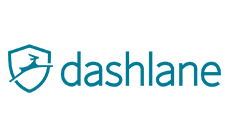 Free Download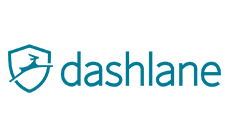 Free Download
Access anywhere:
Windows, Mac, iOS, and Android devices, or a web app.
Security:
Receive security alerts
Autofill options:
Instant form and payment autofill
Never have to type in a password again. EVER. We are in an age now where automation is the lazy-genius of our time and we love it. If we can save 5 minutes, we will. Dashlane offers an automation process with high tech security features that will protect you and change the way you handle your passwords. Allowing you to breathe easy and reserve your brain power for more pressing matters.

What we liked about it
Keep track of all your passwords on all devices
Get security alerts to your devices
Generate unique passwords to protect your accounts and identity
Secure passwords on your device, where only you have access to them
US Patent for our security architecture - the strongest encryption available
Dashlane's Premium plans come with a built-in VPN
Signing up
To use this service, you'll have to download their software. To get started, simply click the link in the top right-hand corner, same as the one below and download it.
Once downloaded, simply install it as you would anything else and create your free account.
Now the idea is, once your account is created, you add Dashlane onto your browser so then as you type your passwords in, Dashlane records them and then retypes them for you. Meaning you never have to type them again. Take a look below at the interface of the software.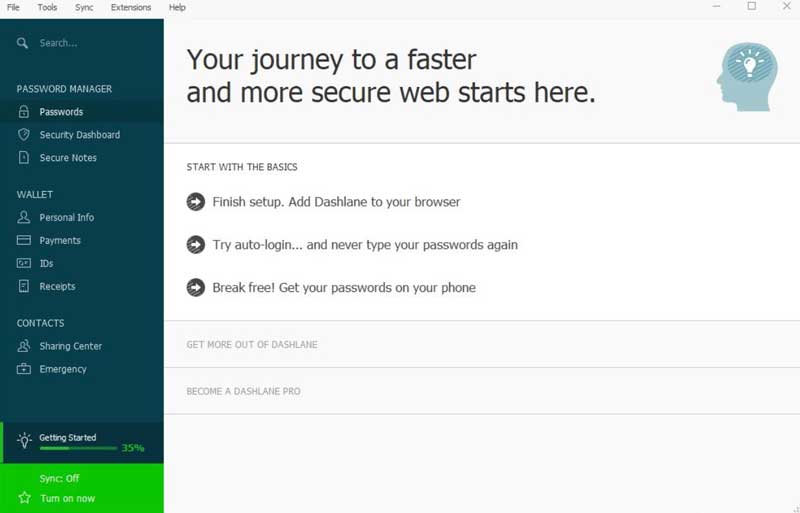 The interface is really easy to use and won't take a few minutes to navigate around. It's pretty impressive and displays everything in a really simplistic but modern way, certainly matching Windows 10.
Back to top ↑
Memberships
You'll be glad to know, Dashlane offers a free plan, for one device, free for life. This is great for trying out their services before buying a plan. Of course, if you only have one device you need it for, this works out massively in your favor.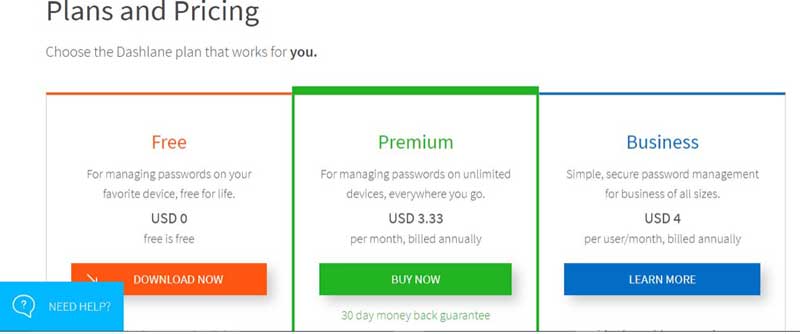 Now, as you would expect, having a free version will mean you won't get all the features that the premium version will give you. Such as on the premium version, you can sync the passwords across several devices. You could then for example use something on your laptop and save the password details, and then open it on your phone and use the details to log into the same site.
Another reason to upgrade to the premium version would be for the account back-ups. These aren't done on the free version and could well be worth the money. The cost of the premium service is currently $3.33 a month, a pretty good price for the convenience it offers. Even the business tariff is pretty reasonable, especially with all the extra features available too.
Back to top ↑
Features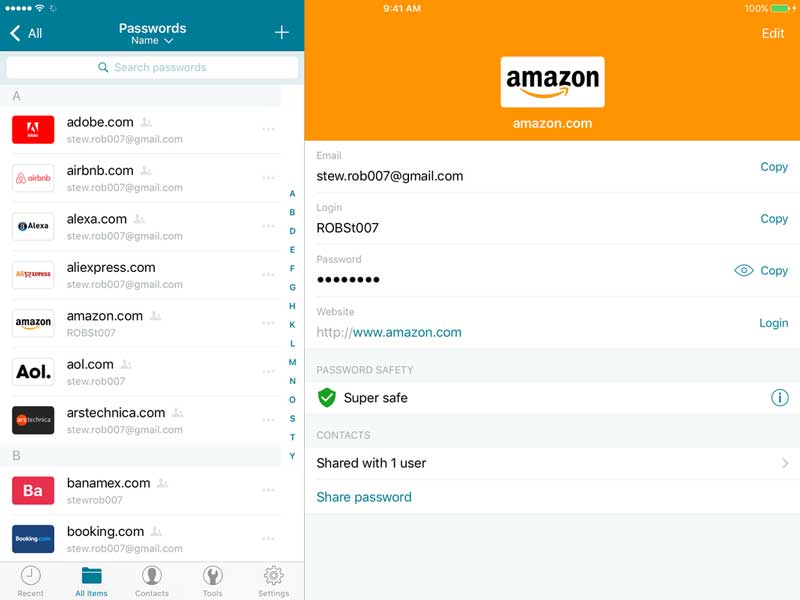 Your master password isn't stored anywhere, this helps keep your passwords safe.

30 day money back guarantee for the premium version

Unlimited password and data storage

Dashlane can change passwords for you

It can also generate passwords for you, making sure they are strong and secure

The free version also includes a 30 day trial of premium

Upgrade to the premium version and sync your passwords across all your devices – very handy indeed! How many sites do you access on your phone and then realise you can't remember the damn password!

Unlimited password sharing and much more: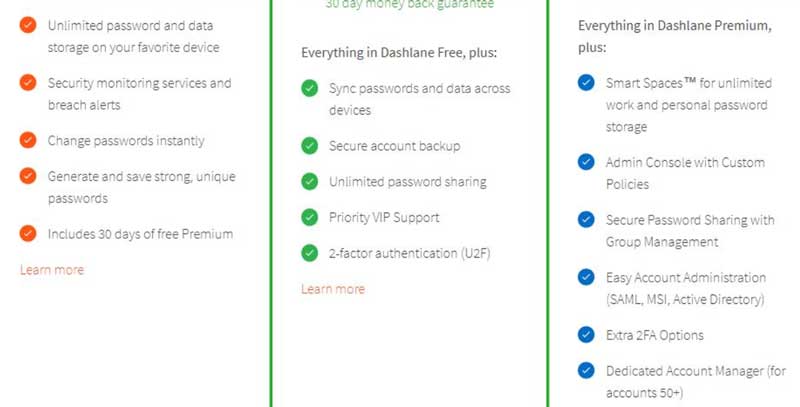 As well as the fantastic features above, Dashlane also helps you stay secure –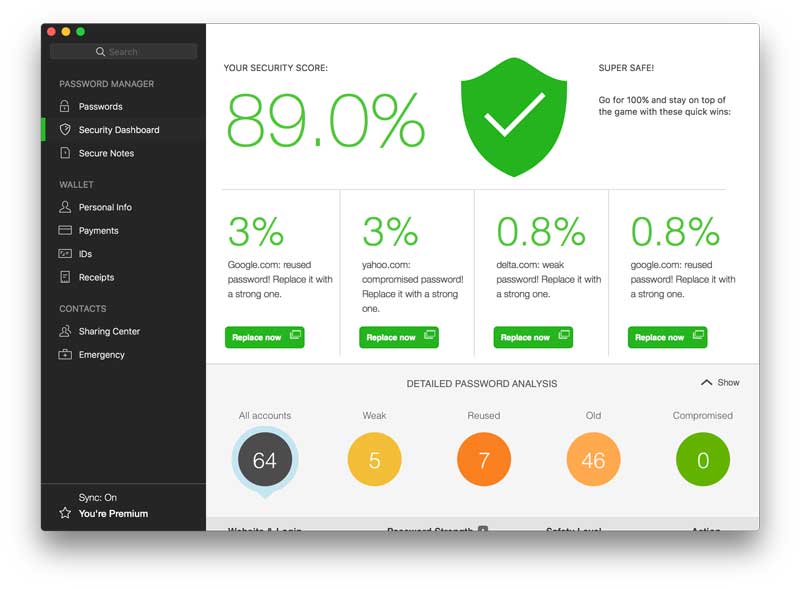 So, you can see here, it has analysed several passwords for me and it is not impressed. This is a great way of back tracking existing passwords and seeing how safe they really are. Plus if you want to change them, you can get Dashlane to automatically change them with the automatic password changer while you kick back with a hot one or a soda. This is actually a really important and useful feature. We all go on our merry way creating passwords but don't give it a second thought after months of using them, if they are actually as secure as we think they are. Normally a password has to have an upper case letter, a lower case letter, numbers and sometimes a symbol – maybe even a human sacrifice too. The problem is of course, is that we sign up to so many things and then realise we have to remember all these passwords, to do that we make them memorable. Making a password memorable often means we adopt a sentimental or practical approach – a date of birth or name for example.

Dashlanes Digital wallet – A built in digital wallet that can be used safely and securely to make your online payments. You can add all your payments including your bank account, credit cards, debit cards, PayPal and more. It will track all your payment methods and provide security for your transactions. It will actually save your receipts too.
Back to top ↑
Compatibility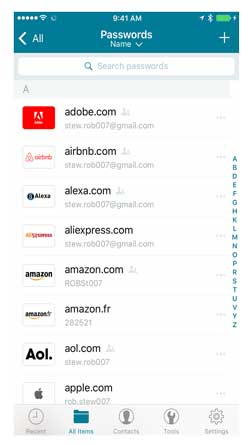 A huge amount of use will be done through computers but a lot of online purchases are actually done through mobile phones since we always have them with us.
Dashlane can be used not only on computers but on phones and tablets as well. Meaning no matter what you are using, you can sync the data across all your devices and be protected.
The mobile interface is user-friendly and easy to navigate. And what can be more helpful than a password manager on your mobile device?
Aren't you tired of typing and mistyping your password again and again? What a great find it is, now you do not need to worry about those annoying typos or compromising your online safety!
Back to top ↑
Fantastic and well thought out features
Rich with fantastic and well thought out features, it has a simple but astonishing interface that anyone can use. It is like having a personal assistant with you 24 hours a day, tending to all your security needs and online payments. If you aren't a Dashlane user, it is highly likely you might be after reading this review.