Kaspersky
Keeping track of different passwords for all your logins can be difficult. Most of us use the same password for all of them to keep things easy and simple. This isn't a good idea, however, because if a hacker gets into one website that you log in to and find your information including your password, they can try that same information on different websites, knowing that most people use the same password everywhere. Kaspersky Password Manager takes care of this problem by giving you one password to use for their service, but they use different random passwords to all your sites. Is this worth it? Let's go over a quick review of this service and see if it's for you.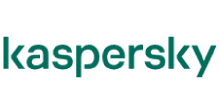 Unlimited devices
Autofill your login details
Keep track of all your passwords on all devices

Get security alerts to your devices

Generate unique passwords to protect your accounts and identity

Secure passwords on your device, where only you have access to them

US Patent for our security architecture - the strongest encryption available

Dashlane's Premium plans come with a built-in VPN
Customer Service: International number available for customer support
What we like about it:
Syncs all your passwords to your desktop, tablets, and mobile phones

Safe and secure

Fingerprint login with a phone

One master password to remember

Autofills passwords so you don't have to

Data organized in folders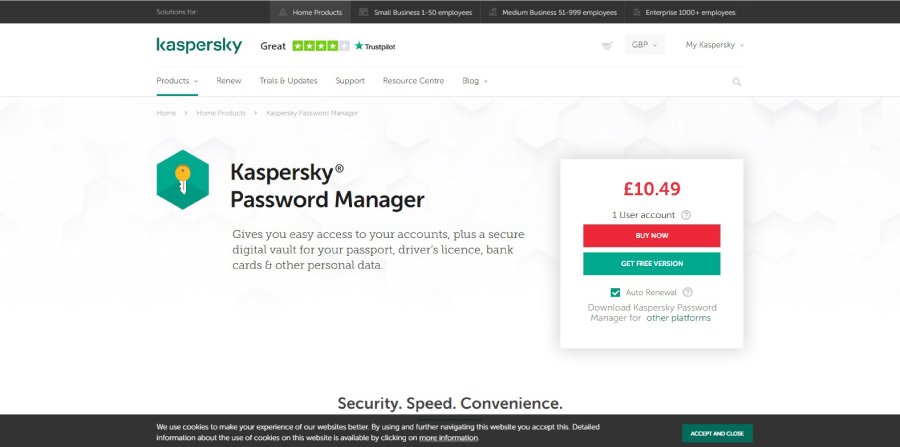 #1 - Services Offered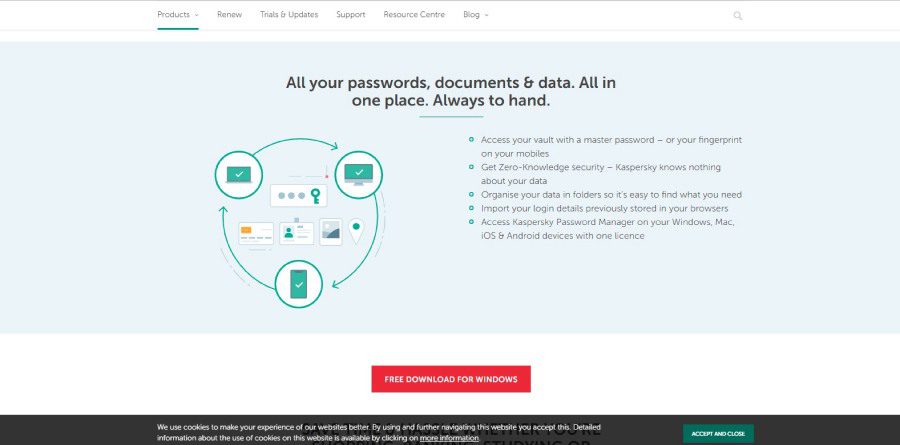 Password Management
Of course, this is the main thing that you want to work well when you invest in a password manager. Kaspersky accomplishes this well by allowing you to enter all your passwords for various sites into one place.
It then will login to your sites and change the password to better, more difficult to hack, and extremely unique passwords to help protect your information that you have on the web. If you've used this service in other programs like AgileBits 1Password, Keepass, Dashlane, or LastPass, Kaspersky can import all your saved logins from them.
You can use this service on all your devices. The mobile version allows you to sign in with your fingerprint, making it just that much more secure and convenient. You can also download it on your desktop and tablet.
Security
The password generator that Kaspersky uses makes each password very strong, giving hackers a run for their money. It also clears your clipboard automatically to keep any information you entered out of the hands of any strangers.
Kaspersky does create new passwords for you, but that doesn't mean they have access to your information. You do have the option of keeping passwords if you choose, but this password manager will let you know if your passwords are weak or if you have passwords that are duplicate. Once you are warned you can then decide to change the password yourself or use the password generator that they include in your membership. This password generator uses a unique 12-character password with upper and lowercase letters, numbers, and characters.
Secure Image Storage
Another useful feature of the Kaspersky Password Manager is the cloud storage for your pics and documents. It will crawl your saved images and ask which you want to save. Then it bypasses the recycle bin to permanently delete the originals, keeping your computer memory free and your images safe.
Digital Volt for Personal Info
Kaspersky also allows you to save all your personal info on this application. You can save as many addresses as needed. You can also save credit card, debit card, and other payment methods.
It will also save all the other information that forms ask such as your legal name, phone number, and email address.
There is also the option of taking secure notes of non-electronic passcodes or information. You can enter the combination to a lock, vault, or any other information that is sensitive and you want to keep a record of.
Back to top

↑
#2 - Ease of Use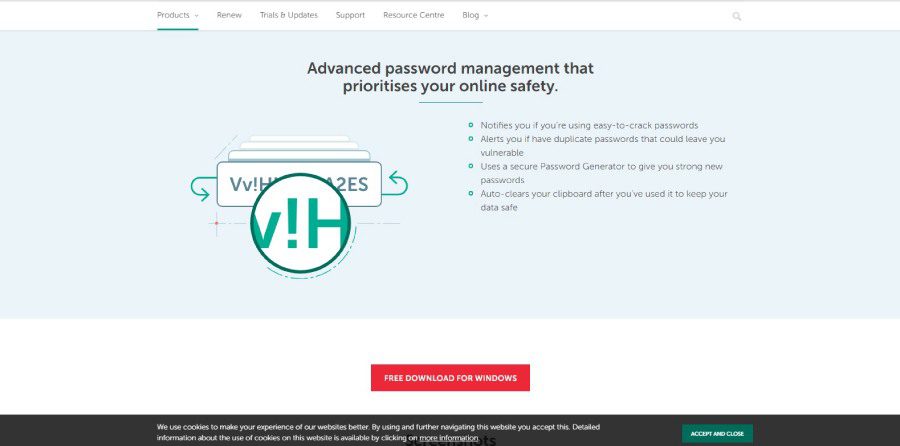 Once you download this application, and then login to your sites, it will automatically save your password and record it in memory to allow you to login securely when using their services. If you need to change your password, you don't have to come up with a safe password yourself, they will assign one to you.
The plugin is easy to use and has a side menu bar that makes accessing all your stored information. There is even a search bar to help you find any login information if you need to narrow down to a specific website.
Back to top

↑
#3 - Pricing
Kaspersky Password Manager offers a free version of their services that only allows you to store up to 15 passwords. Most of us have more passwords than that. The paid version is 10.99 pounds (or $14.99) per year.
This price is much cheaper than the competition and worth the money to protect your sensitive data.
Back to top

↑