PasswordBoss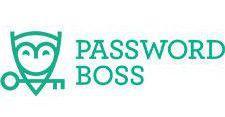 VISIT SITE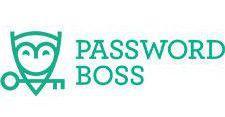 The boss of all your passwords, the assistant you need in your life!
Password Boss is one of the better password automation programs on the market, certified 'Excellent' by pcmag.com.
As we shift into the digital world more and more, our lives are pretty much consumed by our online presence. We don't realize it but we accumulate so many passwords throughout the year and then wonder why months later we can't remember them. Password Boss of course has the solution.
Signing up
To sweeten the deal here, they offer you a free 30-day trial of premium when you sign up. So, let's get started on how you sign up and the process involved, of course you would hope it's simple and quick.
As promised, signing up only took a couple of minutes and as part of the initial process Password Boss gets you to fill out your address from the get go, ready to personalise your account.
Next, they guide you through the simple parts of the set up to help you on your way.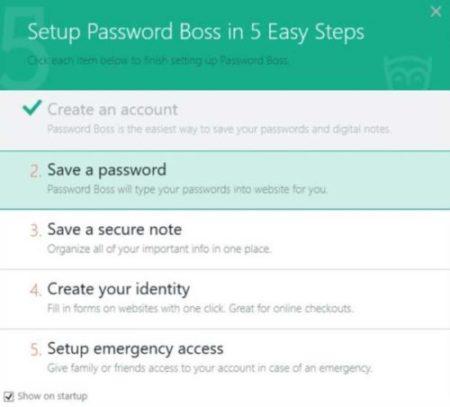 Now straight away you are taken to the interface and you can see it will have taken all the passwords saved on your browser or laptop, already there in the listing. It might not be 100% correct as often browsers take in part information, like just an email address or just a password, so you may have to have a sort through.
Back to top ↑
Memberships
As with many password assistants, this is a free version which will cover you for one device. This is great for one person who's needs aren't massive but most of all it allows you to get to grips with the site and see if you like it beforehand. Lucky for you, Password Boss also gives you a 30 day trial of the premium service which gives you all the standard features plus access to things like their digital wallet, unlimited sharing and digital notes.
After the trial has ended if you like the features they offer, which are pretty neat to be fair, you can buy Premium for $2.50 a month. That's a pretty good price, it's not the lowest price but it's nowhere near the highest either. The amount is per user per month so even if you had a family of 4, that's still only $10, which is again a great price in comparison to others on the market.
Sadly however, there's no discounts for family subscriptions or multiple users from the same household but it's a pretty good price anyway.
Back to top ↑
Features
Let's take a quick overall look at the all-important features –
Unlimited password storage – you might think that's a bit over the top but if you were to write down every single password you have for your accounts now, you'd find you have more than you realise. Going forward of course, it's highly likely you'll add more in, even if it's practical things like car insurance log ins.
Unlimited devices – From your laptop to your phone, you can access your passwords anywhere. Imagine going away on holiday and needing to access an account but can't remember the details because you've wrote them down on a piece of scrap paper – no worries here!
Full Suite download – Even if you don't use your tablet or don't own one yet, you can still add it in later but you get the full suite straight away ready for what the future may bring.
Unlimited sharing of passwords – if you need to share passwords with friends or family.
Online wallet – Here you can store your payment details and have them input for you when you shop, including your addresses too. Make secure payments with piece of mind.
One master password – You set one password which isn't stored anywhere so only you can access your account. One password to rule hundreds.
And so many more!
Back to top ↑
Compatibility
Password Boss is designed for synchronicity, with unlimited devices on your account you can access your passwords wherever you are. Whether that's laptop, Mac, tablet or mobile phone, your passwords are shared to each device by the cloud. Set up is really easy, all you need to do is download the app and log in – Password Boss will help you do the rest.
This is also fantastic for sharing notes between devices or even documents like a copy of your ID or anything else important. To do this, you simply upload the document to the app and then it will be accessible to all your devices, no need to carry around hundreds of pieces of information at the bottom of your bag.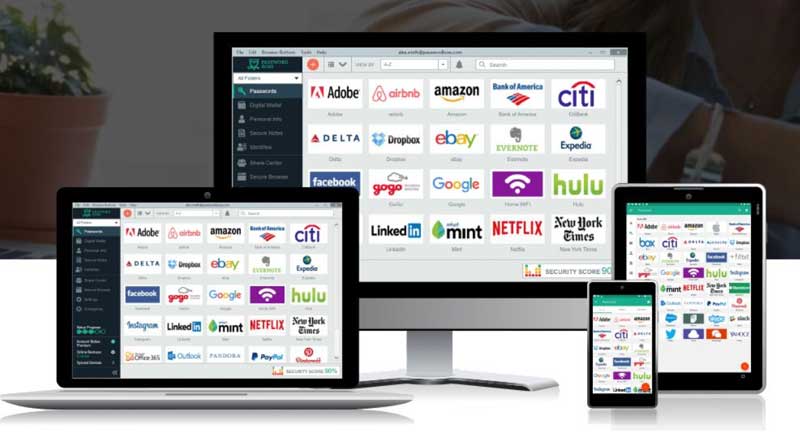 Back to top ↑
Great features
Password Boss has a wealth of great features and the software apps work well. There has been a few issues while running it due to the installation being corrupted to start with but since reinstalling, the software has worked seamlessly.Let's talk value. $2.50 a month for a premium membership is pretty good, especially with the features you get – unlimited devices for a start!It has a much cleaner and easy to use interface than others, making it super easy to use but be sure to take the tour to help you along the way.