Dashlane for Business

Review (2023)
Special offer:
try it free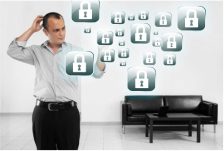 try it free
VISIT SITE
Secure & Simple for over 14 Million Users

Exclusive offer: 100% free plan!

Keep track of all your passwords on all devices
Don't Have Time? Here's a Short Summary (1-Minute Read)
Why do you need a password manager? Keeping track of all your logins and passwords online can be difficult. It's hard to remember them all, and it's not safe to store them on paper or in an Excel spreadsheet. That's why password managers like Dashlane are so popular.
Secure Storage. Your master password isn't stored anywhere, this helps keep your passwords safe. There is also a built in digital wallet that can be used safely and securely to make your online payments.
Easy Syncing. Dashlane can be used not only on computers but on phones and tablets as well. Meaning no matter what you are using, you can sync the data across all your devices and be protected.
How do I use Dashlane? The interface is really easy to use and won't take a few minutes to navigate around. It's pretty impressive and displays everything in a really simplistic but modern way, certainly matching Windows 10.
Quality matters most in choosing the best password manager. It has to possess efficient and valuable features to ensure optimal benefits and functionality.
In this aspect, one of the best password management softwares to consider is Dashlane. Being top-tier, Dashlane is deemed as the deluxe sedan in its category.
Compared to other tools of its kind, Dashlane is equipped with more features. It is in fact known as a comprehensive cybersecurity suite that focuses on securing your password.
You'll find all the details of a complete password manager in this tool, but aside from these, you'll come upon an additional VPN as well as an identity theft protection. This review of the Dashlane Password Management app tackles its pros and cons and an overview of its components. You can then determine if this service is right for you.
#1 - Dashlane Pros and Cons
Being an all-in-one package as a password management app, there's quite plenty to cover about Dashlane. You'll find that it contains all the standard features of a password manager, but together with these are solutions such as automatic form filling, dark web monitoring and secure notes.
Pros
It has all-inclusive security features.
It provides an option for updating a great number of passwords instantaneously.
You can sync it over all devices such as Mac, Windows, Android and iOs.
It has a neat and user-friendly structure.
Its premium plan includes an integrated VPN protection.
It can detect leaked logins on the Dark Web.
Cons
It is higher-priced compared to other tools of the same category.
Its free plan is limited in functionality.
It doesn't have an app for the desktop.
Its emergency access component has been removed.
Back to top

↑
#2 - Dashlane Password Manager Features
Password Generator
As a fundamental feature, Dashlane is designed with a password generator that produces a strong password in case you want to turn out a new one, or else change an old one.
As a default function, the app generates sturdy passwords that are composed of 12 characters. It utilizes all character sets, such as numbers and symbols. Nonetheless, if you choose, you can create shorter or longer passwords than these consisting only of letters and numbers.
Regardless of the situation, you can guarantee that these 12-character passwords are secure. Take note, though, that Dashlane is not capable of creating pronounceable word-based passwords. Being so, the passwords are something that you cannot likely memorize. But that's the whole point of a password manager- you don't have to keep a password in your memory. You can practically generate lengthy passwords for bolstered security.
Password Changer
The Dashlane password generator is valuable in terms of producing new passwords or updating old ones individually. What the password changer of this tool does, on the other hand, is facilitate in securing every one of your active accounts by updating used and weak passwords with solid and unique ones. This is done through a simple process.
What differentiates this tool from the rest is that it enables you to update all outdated and vulnerable passwords at the same time. This means that you don't need to manually log in every one of your accounts and modify them individually.
From the worst to the best ones, the Dashlane password changer shows and offers to revamp them altogether.
Capturing Logins
If your password database is not imported from a browser or a different password manager, you initially have to capture your logins. If not, you'll have to enter them one by one separately.
What this Dashlane feature does is capture the login details and credentials of every account that you sign-in on, whether one-page or multiple-page websites.
As an option, you can set this tool to:
Supply the log-in details and sign you in automatically.
Complete only the autofill.
Disable these options.
If you website has multiple pages, you have to click on the Dashlane logo and choose the appropriate login details so that you can freehandedly enter the next logins.
Advanced Form-Filling
You can opt to fill in webforms with your preferred details using this feature of Dashlane. These mainly refer to your personal information, such as your name, email address and phone number. You can store as many of these details as you like.
If it so happens that you chance upon a webform, all you have to do is click so that your saved information will populate it.
On the menu of the app, you can add your payment information, including bank accounts, credit card numbers or other methods such as PayPal. There is a system of coding them so that they don't mix up. The same applies to identification documents like your passport and driver's license.
Secure Notes
There is your computer notepad wherein you tend to store membership numbers, wifi codes, ID scans, software scans and other sensitive information, but its level of security is low. You will also need to be able to easily access these details on multiple devices. As a solution, Dashlane provides pre-set options for:
Application password
Database
Finance
Legal document
Membership
Server info
Software license
Blank notes can be added, too, and you can attach files and images for safekeeping and accessibility. If you want to get hold of 1GB storage, Dashlane offers it as a paid feature.
Other than storing your data, you can send this information to your phone and safely share it with your family and friends.
Dark Web Monitoring
It is in the dark web where cybercriminals vend stolen data. The Dark Web Monitoring feature of this tool verifies if your personal information is in peril. This is done by having your email entered, which is typically connected to your credit card or physical address.
Back to top

↑
#3 - The Safety Of Using Dashlane
Whether you get a free or premium account, you'll find that the features of this app are impressive. Can you be assured that it is safe?
Definitely, the answer is "YES", Dashlane is safe. Security features incorporated on it include 2-Factor Authentication, along with military-grade 256-bit AES encryption and zero-trust architecture. These are just to mention a few. You can make sure of the encryption of all your data with the use of your master password that serves as a key that is in the same way securely saved on your device.
Back to top

↑
*VPN services are prohibited in some jurisdictions, as well as subject to content providers or websites' operators' terms of use. We recommend you ensure you are legally allowed to use the VPN services prior to any use or registration. We do not encourage the use of a VPN for illegal purposes in any manner.
PROs
Dashlane is Used by 20,000+ Companies and 15+ Million Users Worldwide

Over 125,000 5-star reviews in the Apple App Store and Google Play Store

Patented, zero-knowledge security architecture

Advanced password management and authentication with single sign-on (SSO)

Security dashboard allowing admins to track security/password health over time

Smart spaces keep work & personal data separate

The easiest and safest way to share passwords

Enjoy 100% free trial
CONs